Positions of Planets at Sangeeta's Birth:

 Sun       position is 10 deg. 22 min. of Leo
 Moon      position is  0 deg. 00 min. of Pis
 Mercury   position is  1 deg. 32 min. of Leo
 Venus     position is 14 deg. 58 min. of Can
 Mars      position is 15 deg. 22 min. of Can
 Jupiter   position is 19 deg. 28 min. of Can
 Saturn    position is 29 deg. 16 min. of Pis
 Uranus    position is 17 deg. 34 min. of Vir
 Neptune   position is 19 deg. 24 min. of Sco
 Pluto     position is 16 deg. 55 min. of Vir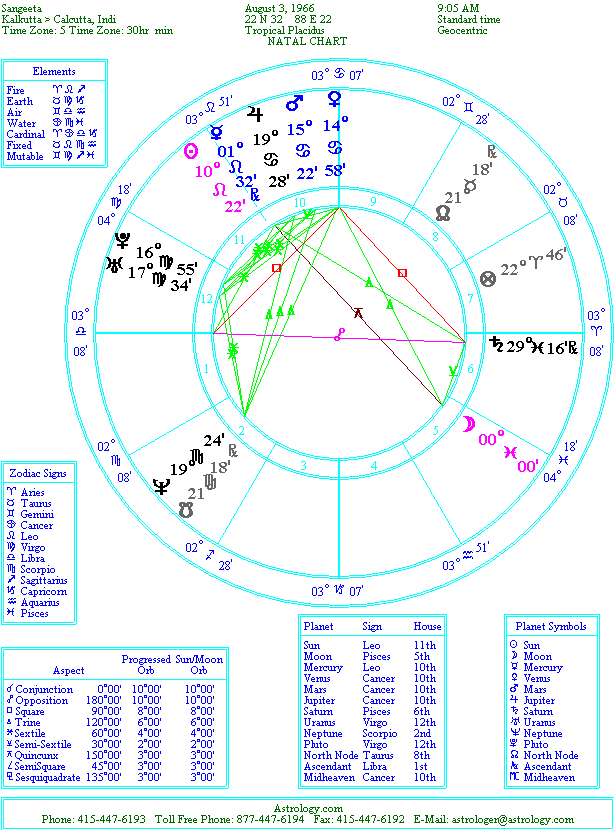 Section 1: How You Approach Life and How You Appear To Others
You are a natural diplomat, reasonable, tolerant, fair, always willing to listen to varying viewpoints, and ready to see the other side of an issue. Even if you strongly disagree with someone, you will try to find points of similarity and agreement rather than emphasizing the differences. You often avoid taking an extreme or one-sided stance on anything. You have a strong desire for harmonious and pleasant relationships, and express a spirit of cooperation, compromise, friendship, and fairness. You very much want to be liked and because of your need for approval and acceptance, you are easily influenced by others' opinions, especially when young. You so much want to please that often you will suppress your own intense or unpleasant feelings in order not to offend others. Sometimes your politeness is interpreted as phoniness or wishy-washiness.
Your need to create harmony extends to your physical environment and personal appearance as well. You appreciate beauty and have a natural sense of balance, symmetry, and proportion. You do everything in good taste, with a sense of style and art. From your home furnishings to your choice of clothing, everything must be aesthetically appealing, not simply functional or utilitarian.
You also feel that relationships are an art, one that especially interests you and one that you are usually quite skilled at, for you possess tact and acute awareness of other people. Marriage is very significant to you and finding the right person to share your life with is extremely important. Being part of a close couple seems natural to you - you are not an independent loner. Having a partner increases your self-confidence. You do have a tendency, however, to become overly dependent on your partner and perhaps not to develop a clearly defined identity outside of the relationship. Finding the balance between being yourself and blending and uniting with another is a challenge for you.
Others see you as an agreeable, smooth, harmonious, and "nice" person. Though there may be much more to you, this is the sort of face you show to the world. You possess personal charm and an understated, noncombative manner. Your motto could be "you catch more flies with honey than with vinegar" for you usually take a friendly, cooperative approach rather than a strong, forceful, I'm-going-to-conquer-the-world attitude.
Section 2: The Inner You: Your Real Motivation
Proud and intensely individual, you really want to stand out, to be the very best you can be, and to be recognized and appreciated for your unique contributions. Doing something well and being respected for it is extremely important to you, and you cannot tolerate being in the background, taking orders from others, or being "just one of the team". You must put your personal stamp on whatever you do, and direct your own course in life. You need to have a place where you can shine, express yourself creatively, and be the one in charge.
You have big dreams and the determination, spirit, vitality, and enthusiasm to bring them into being. You also have a noble, romantic heart, and a love of the dramatic, colorful, and extravagant.
For you it is true that "all the world's a stage" and you secretly (or perhaps not so secretly) desire to be the Star or Hero in the play. You want to be great, and to receive the love and applause of an adoring audience, even if the "audience" is just one other special person. You need someone to believe in you and your dreams. Though you appear radiantly self-confident and independent, you are actually very much dependent on the affirmation, love, and recognition of others. You cannot bear being unnoticed or unappreciated.
You also love wholeheartedly and generously and really know how to make the person you love feel special. You love the magic of "being in love" and know how to keep the romance alive in your relationships. You are also immensely loyal and will defend your loved ones and stand by them to the end - as long as they never offend your pride or betray your trust. However, you like to be the strong one in a relationship and you really do not share the leading role very easily. Ideally you need to find a person who is as strong-willed as yourself, but who will not try to dominate or compete with you.
Your strengths are your zest and love for life, your creative power, and your warm and generous heart. Your primary fault is your tendency to be very egocentric, so concerned with the impression you are making and with your own creative self-expression that you forget there is another, larger world that does not revolve around you.